Archive for 'Published'
I have been a huge fan of Lexi Vornberg and when she launched Lemonade and Lenses, I loved her even more.  L&L is a great site for photographers not only to get inspired & share ideas, but to learn how to grow as a photographer.  I puffy heart everything on this site because the work on L&L is always beautiful, soft, romantic, and it just completely woos my heart!  I obsess over photography unlike the average person because it's my passion and my favorite thing about L&L is that every artist featured uses their photography to tell a story.  Their images capture not only a family or a person or a bride, it tells a story.  That is what I try to achieve in my sessions.  I don't just try to get the perfect image of kids smiling or everyone looking at the same time, but I strive to capture the beauty that you absorb, the movement that makes us enjoy life, and I want to give my clients photos that remind them of the blessings they receive.  I am so looking forward to 2013 because I think my photography grows each and every year!  I am so blessed to have others enjoy my photography as much as I do and when I was featured on Lemonade and Lenses the day before my birthday this year, I wanted to PASS OUT.   If you asked me two years ago if I would be featured on blogs and have my work get published, I would laugh.  I am so honored to be doing what I am doing and I am so grateful for those who see my passion, who support these goals of mine, and I will continue to challenge myself !!!  My awesome and beautiful clients Aimee & Derek were featured on Lemonade & Lenses.  You can check out the full article HERE 

Christina Watkins Photography Wins Two Bright Lights Editors' Choice Awards!!!!!!
As a testament to my outstanding clients, and my commitment to producing the best-of-the-best portrait & wedding photography photos, I am thrilled to announce that I have been selected as a winner of the 2012 Two Bright Lights Editors' Choice Awards!
The award is given in recognition of the those whose number of published features in 2011 placed them among the top 5% of TBL members . Winners were published across many of the most respected lifestyle, wedding and other print and digital publications in the United States and worldwide.
I am honored to be part of this group of talented photographers and creative professionals. My features this past year have enabled me to increase exposure for my work, and I am thrilled to have been recognized for my endeavors.
 I had the privilege of being published in the following publications:
Thanks to all of the other creative professionals who made these features possible!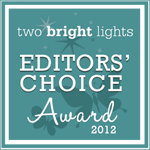 The best reward for any photographer is to have their photos published or featured for recognition!  I am so grateful that I have had the opportunity to be recognized by some of the best  in the industry for weddings and portraits!  I absolutely love getting emails that I have been selected for published work not only for my own little reward but for my clients as well!  I love giving back to my clients and letting them know that the love in their home reflects in the photos that I take and because of that, my photos become that much more real.
I love my job!
Christina
Elisabeth and I didn't meet until the day of the wedding.  We wrote and exchanged many emails living in two different states and far from each other.  It was a risk she was willing to take and I will be forever grateful for that kind of trust.  Elisabeth is the kind of friend that I would do anything for!  She's just amazing!  I'm so happy to call her a new friend and I'm so honored to have been a part of their wedding day!  I just loved them!  They totally deserve to be featured on a site and I couldn't be more happy for them!  It was super exciting to see my photos on a very popular Charleston Wedding site like Wedding Row and I can't wait to show more! Here's a few of their photos until my own blog post!  Go check it out!